This summer, let's discover the state of the roads with Google Maps and the DGT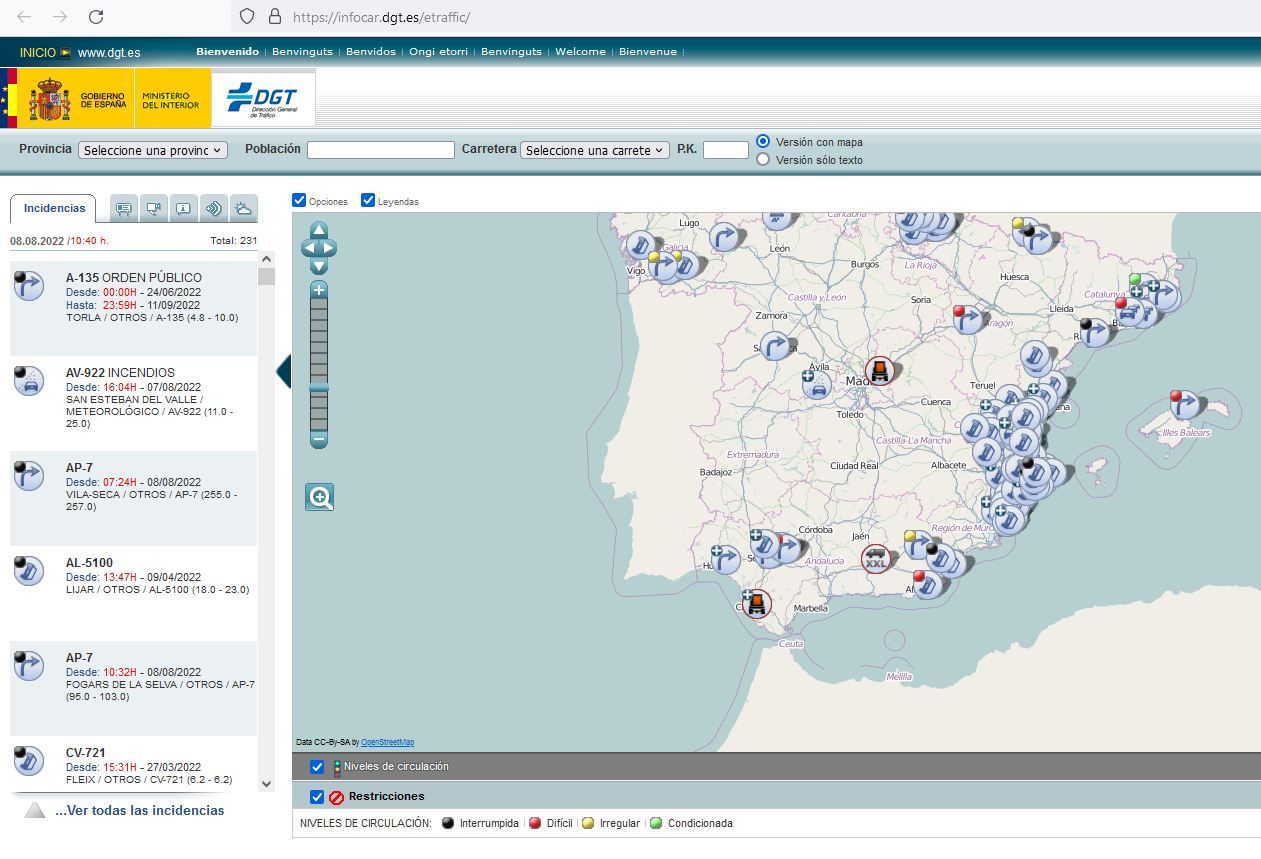 Tuesday, august 16, 2022
Thanks to the technology of Google Maps and the DGT, you will know if a road is cut by a forest fire
Unfortunately, the increase of forest fires is habitual due to the heat wave and the terrible drought which affects practically the entire national territory. Therefore, the consequences are terrible in all aspects.
It affects to road travels in the same way, as there are road cuts and, if we bear in mind that we are at the time of year when there are around 7 million journeys, it is possible to end up in traffic jam for hours with the suffering that this entails.
Check the route you are going to do by road before getting going
Nowadays, thanks to the internet you can easily check if there is a fire near the area you are going, but still, nothing guarantees that there is any road cut. Therefore, we recommend you to visit Google Maps and the DGT website, to be more precise.
Google Maps sirve de gran ayuda para muchísimas cosas y para averiguar los atascos que hay en la ruta elegida y de esta forma seleccionar otras posibles rutas al destino, sin peajes, ruta corta, pintoresca… Además, también indica los lugares de carga eléctrica para este tipo de vehículos.
To be even more precise, use the DGT website
The DGT website offers you a lot of information to plan your trip with the best guarantees of reaching your destination avoiding possible traffic incidents.
To get to this point, the web is accessed and in the "Traffic Status" drop-down a section is accessed that indicates information and traffic incidents in real time.
If you access the map you will see, with different indicative icons, the incidents that are currently occurring on Spanish roads and in this way you can verify if there will be any inconvenience during the journey to be made.
Verifying the route to be carried out, you will see if there are stops, accidents, works on the road or if, for some special circumstances, there are any restrictions on the road.
To find out if there is a forest fire in the area, you must go to the "weather warnings" section and here is where you can see a "smoke/dust" warning of this circumstance.
It always should be kept in mind that when we start a trip the circumstances are some, but they may change during the tour. Obviously you can consult through the mobile these modifications, but it is better to leave it to your companion, since you must not use your mobile phone for your safety and that of others.
In any case, before you start, and after having verified the route for these circumstances, our recommendation is going to the garage to have a review of the vehicle, and in case you end up in a traffic jam, the vehicle respond with guarantees (air conditioning, engine in perfect condition) Request your appointment here.
Do you want to be up to date with all the news and offers of your trusted garage? Follow us on Facebook and Instagram. We are waiting for you!
Talleres Martínez, your Ford point in San Miguel de Salinas (Alicante)