The new traffic signs for 2023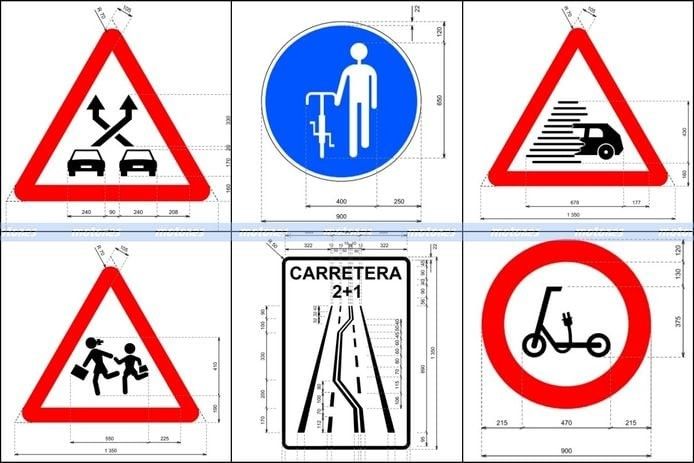 Tuesday, december 20, 2022
Nowadays, the traffic signs which can be seen on the roads of Spain have not been updated in the last 18 years, and that is why, after the modification of the normative that regulates traffic, have been modernised to adapt to new policies.
Terms does not change, images changes
From January 2, 2023 some traffic signs will be modified and some others will be included, coinciding with the entry into force of the new General Traffic Regulation, which adapts to that evolution that our society has suffered in these 18 years that the current regulation has been in force.
It is logical to think that, with the changes that have occurred both in the social, technological and cultural fields, the information transmitted by traffic signs should also be varied with respect to the objective of achieving an understanding of this information by the user.
These modifications aim to improve road safety by updating and clarifying vertical signs, construction signs, agents, traffic lights and road markings.
They must be updated because the regulations have changed and also the volume and composition of traffic, as well as the safety of road infrastructure and the way in which vehicles are mobilized.
The modifications take into account those images that are considered discriminatory in terms of gender and also allow them to be adaptable to future changes of symbols.
The new traffic signs that arrive
On the one hand, in this new regulation there are modifications regarding the dimensions of several signs that have not suffered alterations in all these years, although this will be done progressively.
To start, you will see signs of pedestrian crossings with the outline of pedestrians highlighted for greater visibility and a new one will be added which will make reference to pedestrian crossings combined with bicycles.
Another signal that will be altered will be the STOP, that modifies the font with which it is written. There will be a new fog danger signal and one that will warn of danger beause of approaching a twisted lane.
Some signs will be updated such as those showing motorcycles and trains and danger to school area, in this is shown a girl carrying her brother and not the other way around as before.
The driving ban for electric skates is added due to the incursion of these in our daily life. The slope direction also appears on the sign indicating the danger of unevenness and the ban end marks will now be black instead of grey.
Other new signs
As you can already see, new signs have appeared due to the incorporation of vehicles, but also arise by the new traffic guidelines that include new roads, such as roads 2+1 or some indicated as multicarril.
These roads are characterized because they have a road that respects the separation of both directions of circulation, a lane for each direction and an additional one that is prepared for overtaking.
Other signs come to life will indicate exclusive parking for certain users, as well as some that will indicate lanes for cycles, ramp for pedestrians or even those that indicate that must be disassembled from the bike to advance.
From Talleres Martínez we have summarized some of the signs that will be modified or appear from the new year, but there will be more that will appear or replace the old ones.
Do you want to be up to date with all the news and offers of your trusted garage? Follow us on Facebook and Instagram!
Talleres Martínez, your Ford point in San Miguel de Salinas (Alicante)