The best 4 offers of Ford Fiesta in used vehicles in Alicante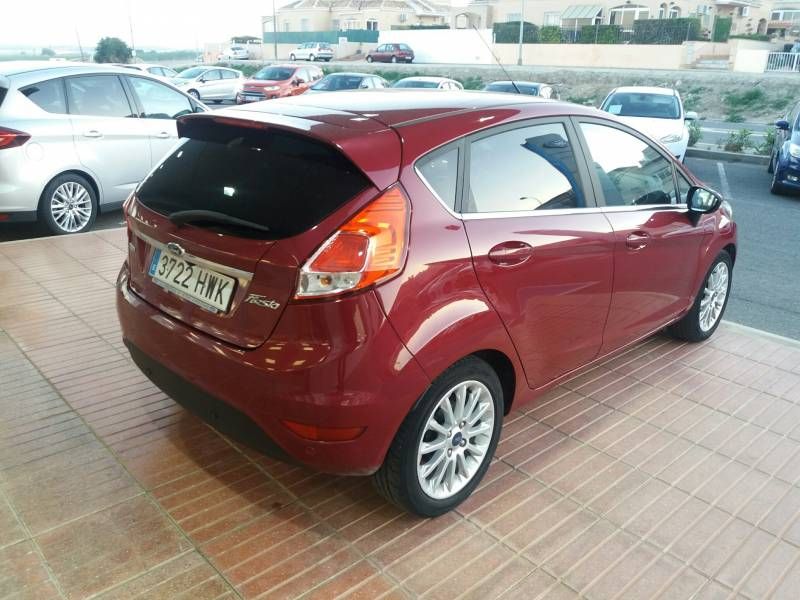 Friday, february 15, 2019
Are you fan of the range of Fiesta from Ford? This winter make the most of the different offers we give you of this mythical model in Ford Talleres Martínez.
As we already know this is a vehicle you really like, both for its exterior, interior and its practicality within the city. We have collected the best 4 offers of cars for you to choose the best one which best suits on your pocket and your needs.
If you are interested in some of our used vehicles you are going to see below, in Ford Talleres Martínez you can ask for a driving test without any commitment, so that you verify by yourself the ideal state of the car. We are at your disposal for any question or query as well as any service you might need.
Furthermore, you must keep in mind that buying at our facilities benefits you in many ways and guarantees, which you can consult here.
4 proposals of used cars which you will find at our center.
Don't miss it!
1. Ford Fiesta 1.25 Duratec 82cv 5p Trend Blue
9.900€ - see OFFER
Do you remind the "forti" of your parents? This is, the only private car from the European range of Ford, which keeps the name of the original model of 1976, without modifications. Did you know it? Let's enjoy it!
2. Ford Fiesta 1.25 Duratec 82cv 5p Trend White
9.400€ - See OFFER
Did you know Roger Moore enjoyed with his Ford Fiesta during the film shooting of 'The spy who loved me', the film of James Bond? Decide and comfortably drive through the city.
3. Ford Fiesta 1.25 82cv Trend grey
8.900€ - See OFFER
Its main goal? To go wherever you propose independent of your lifestyle.
4. Ford Fiesta 1.25 Duratec 82cv 5p Trend dark grey
9.900€ - See OFFER
Some reasons to want it? It has a capacity of 5 passengers, a surprising interior space and the typical quality, comfort and equipment of a private car.
5. Ford Fiesta 1.0 EcoBoost Auto-St-St 125cv Tit. X 5p Titanium X – wine colour
10.900€ - See OFFER
It is designed for the urban jungle. A weekend trip. Commuting. Take a shortcut. A panoramic route, wherever you go.
New Ford Fiesta
We also have new Ford Fiesta available, which you can consult here.
Do you have any doubt? Come and visit us and we will sort them out! We are located at Ronda Norte, 17. San Miguel de Salinas (Alicante) |
Join the Ford TM world in social networks here: Facebook | Instagram | Twitter