Reach to the top! New Ford Edge Vignale #Pushyour limits?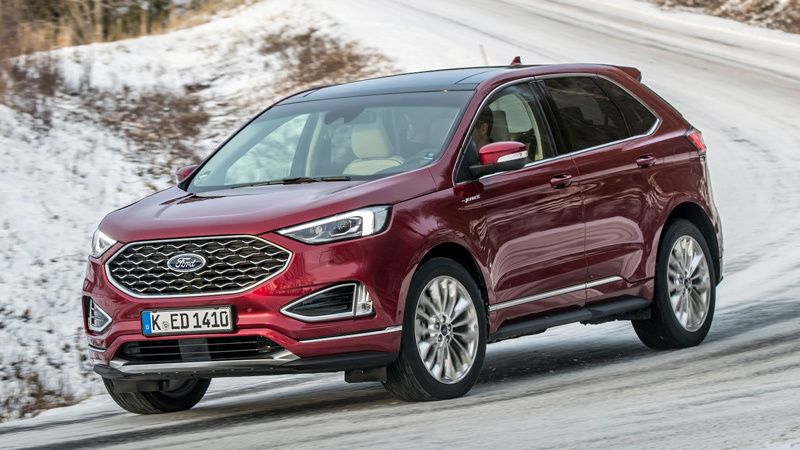 Monday, january 14, 2019
We will be receiving the new Ford Edge Vignale at Ford Talleres Martínez really soon. It presents an original design which combines elegance and a sport style.
Do you want to know more?
Go with us and find out this incredible vehicle which doubtlessly will leave you amazed.
Feel the real luxury
Sit behind the wheel of the new Ford Edge Vignale and enjoy an array of feelings: Its leather seats made to measure, its first rate seams and its state of the art audio system B&O PLAY.
Personal driving assistant
Ford Co-Pilot360 is the system which will give you a safer, funnier and more comfortable experience due to its system Stop & Go automatically regulates its cruising speed depending on the vehicle in front of you and the surrounding traffic. It recognized speed limit signs and it adjusts the car's speed according to them. Also it provides a new technology to place the car in the center of its lane.
An adaptive control of cruising speed
The adaptive control of cruising speed gives you the opportunity to choose the speed range you want the car to keep.
Technology which sees what you don't
The Blind Spot Information System actively alerts you about possible dangerous situations with an orange light that is clearly displayed in the rearview mirror.
Smart four-wheel drive system
The new intelligent four-wheel drive system can determine how much grip, stability and responsiveness you need on wet, dry or icy roads, as well as on several types of terrain.
Lane change warning system
The lane change warning system uses a front vision camera and it will gently guide you back to the lane that corresponds to you.
Adaptive lighting
Adaptive lighting with Ford's Dynamic LED headlights and daytime running lights offers a precise and bright light pattern that is automatically adjusted according to different driving and road conditions.
It detects what is coming from any side
A small panoramic camera located at the front of the vehicle sends images to the Edge's multifunction display so you can detect other vehicles, cyclists or pedestrians approaching from any side.
Parking assistant
Do you get stressed when having to park? The active parking assistant can help you in instances where the space is only 20% larger than your vehicle.
Simpler reverse
The rear camera alerts you of the objects that you may not see and shows virtual lines which help you to park in small spaces.
Greater control during hill starts
Assistance for hill starts prevents the vehicle from rolling backwards or forwards when you start driving on a slope.
Driver alert system
This Technology alerts you when you show signs of fatigue. The driver alert system constantly monitors your driving behavior to detect any changes which may result because of tiredness. If it detects you start to lower your guard, a warning appears that suggests you to take a break.
Ford SYNC emergency assistance
In the event of an accident, when the airbag is activated or the fuel pump is deactivated, Ford SYNC with its emergency assistance can use a mobile phone connected and linked by Bluetooth® to help you make a direct call to emergencies services.
Now did you want to come and see this fantastic vehicle? Contact us and take your driving test. We are waiting for you in San Miguel de Salinas!
Follow us! Facebook | Instagram