New San Miguel de Salinas Ford Recharging Point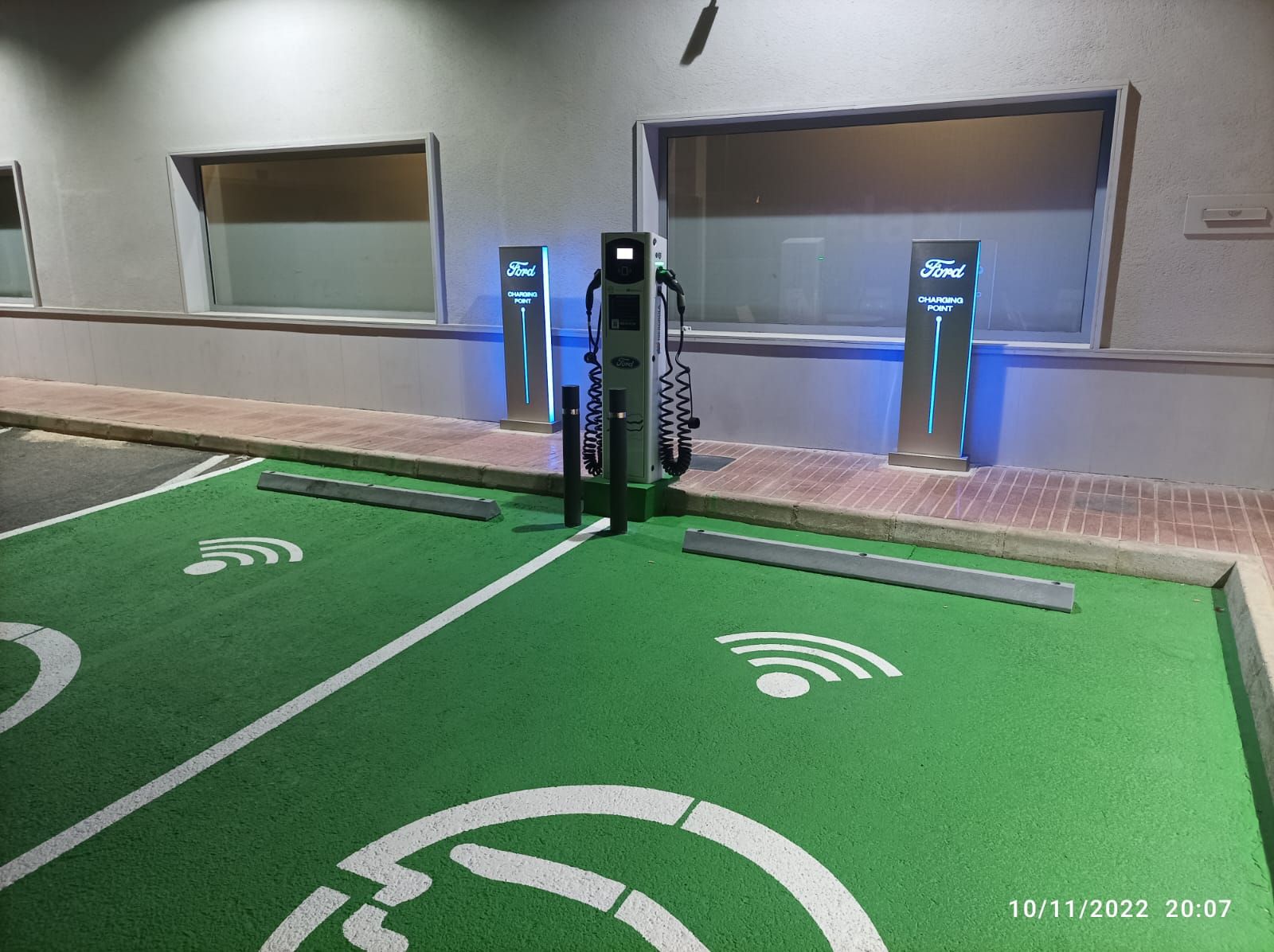 Monday, december 26, 2022
We have launched a recharging point for your electric vehicle! From Talleres Martínez we are very happy to inform you that we have just installed in our facilities, the only charging point for electric vehicles available in the town of San Miguel de Salinas.
Ford Recharging Points
From Ford Spain everything is being done to make the EU project of electrification of vehicles and environmental care possible in the short term and in this way meet the expectations that mark a line in 2035 and that set a goal for 2050.
Ford Spain is implementing public charging stations for electric or plug-in hybrid vehicles to make traveling with this model of vehicles as comfortable as possible. The BlueOval charging network is present throughout Europe with more than 300,000 charging points including high-speed IONITY stations.
You can access to the information of the available recharge point from your FordPass application as we explained in previous articles. In this 'Use of FordPass App'
Electric cars and plug-in hybrids
The new charging point that Ford Talleres Martínez has installed in its facilities is useful for both electric cars and plug-in hybrids.
Either of the two types is fully adaptable to connect to this new point, as you can see in the explaining video from the manager Ivan Martinez here where the Mustang Mach-e of which we already had an experience with the test drive.
The recharging point, as explained by Iván Martínez, is composed of two 22 kilowatt sockets and is available to the public 24 hours a day so that anyone can come at any time of the day to recharge their vehicle.
The distance that electric cars can travel
The distance that such vehicles can travel is relative, first because you have to differentiate between electric and plug-in hybrids. In the case of the latter the autonomy will be around 56 kilometers and in the case of the 100% electric will always be greater, for example the Mustang Mach-e is up to 610 kilometers.
To give us an idea of this, a Kuga has an autonomy of 64 kilometers and a Tourneo Custom, for example, can travel up to 53 kilometers with the electrical system.
To optimize a plug-in electric or hybrid vehicle we leave you some tips:
*Drive gently and at a constant speed, this way the car will use less power and will increase its autonomy.
*Use the FordPass app to preheat or cool the carrier while charging, also bear in mind that the energy you save in the air conditioning will provide extra autonomy.
*Using regenerative braking is very important to be able to recharge the battery, that is, as far as possible do not use the brake but let the car slow down by itself.
You can also take control of the autonomy of your vehicle from the control panel available in electric vehicles, in which you can see exactly when and where to charge the vehicle, the same can be done from your FordPass application, as indicated above.
Finally we leave some tips to take care of your electric vehicle in the winter seasons, taking into account that temperatures below 4ºC reduce the efficiency of batteries.
*Parking the vehicle indoors reduces exposure to these low temperatures.
*Leave the vehicle turned off when it is charging
*Activate, using your app, the preheating to start warming the battery.
*If you are in a place with snow, release the vehicle from that charge.
*Check the tyre pressure.
What do you think about the new recharging point that Talleres Martínez has implemented in its facilities? Have you come to try it? When you do, leave us your opinion.
Do you want to be up to date with all the news and offers of your trusted garage? Follow us on Facebook and Instagram. We are waiting for you!
Talleres Martínez, your Ford point in San Miguel de Salinas (Alicante)