Interview with Iván Martínez, manager of Ford Talleres Martínez in Onda Cero Vega Baja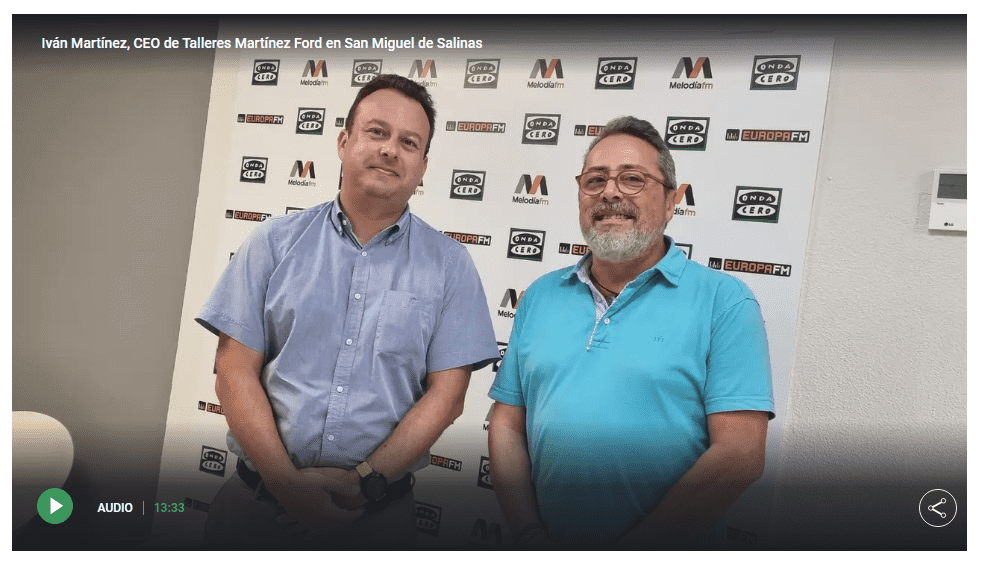 Tuesday, may 31, 2022
Iván Martínez, manager of Talleres Martínez was interviewed last May 19 in the program 'Más de Uno de Onda Cero Vega Baja', about the different hybrid cars, plug-in and electric hybrids.
The demand for electric vehicles is growing
As Iván Martínez affirmed, who pointed out that there is an increase in demand for electric vehicles and plug-in hybrids due to the introduction of such vehicles in the automotive market, creating an upward trend, but without abandoning the traditional gasoline or diesel vehicle.
"These vehicles are taking up a space in the market and everything points to the future will be electric" as Ivan points out, the governments themselves and the European Union itself are making an effort to make it so, proposing subsidies and aids to purchase such cars and dispose of gasoline or diesel vehicles.
It is true that we will have to wait because brands need time and resources to continue researching and evolving this technology, but there is already a date set for the end of traditional cars, that will be the year 2035 in which these vehicles will not be sold.
The end of gasoline and diesel: 2035
This does not mean that you can not circulate with them after that date mentioned above or think that they can be removed from circulation, nothing further from reality.
Although electric vehicles are the trend and the future in the market, the traditional ones will continue circulating as happened when the obligation of carrying catalys was introduced (more than 40 years ago) which continued circulating and stopped doing so due to the disuse and sale of these, will gradually disappear by the inertia of society itself.
Totally electric cars, they gradually make a space for themselve.
Fully electric vehicles are growing progressively, but by leaps and bounds if you look at the percentage increased, they have grown 100% in the last year, although the figure is still quite low. This is because we are still unaware of how to deal with this new technology because we do not know where to load the vehicle, how to do it, what types of loads there are, etc.
What many people do not know is that if you have installed the Ford App, it shows the charging points of vehicles every 5 or 10 km, which means that there are more than we believe and we do not know because we do not have this type of vehicle.
Consumption 3 or 4 times lower than traditional ones.
As Ivan points out in this interview, electric vehicles have a consumption far below gasoline or diesel and that is considering that electricity has skyrocketed in recent months, but as fill the tank of gasoline or diesel has also become expensive, makes us see that having this kind of vehicles really is a saving.
It should be pointed out that recharging the vehicle at home, with a long load, will be cheaper than doing it on a trip, because on the road will have to do a fast charge, for example, while we stop for a coffee, to continue the journey, and that would make the expenses of the traditional and the electric equal.
Self-chargeable batteries?
There is a concept that has been introduced within the terminology of these vehicles which is the self-charging battery that needs to be explained. There is no point in the battery charging when we start the engine. In reality, these batteries are charged when we are stopping the vehicle because what it does is to reverse the function and brake motor collecting energy in a "dynamo effect as in bicycles when we were children"
Another added saving with these vehicles is that when doing this engine brake effect will be used less standing and the pads will suffer much less and will therefore last much longer.
Several hybrid categories
Hybrid vehicles can be divided into three categories:
There are some that we have known for 20 years which have an electric motor, but only a few minutes, it is not used as a main engine.
Mild-Hybrid, which are those vehicles that have a 48-volt battery that helps the engine in acceleration and when the car is retaining, it produces the effect discussed above to be able to recharge by collecting energy.
The third one is the plug-in hybrid that is very useful because it leaves a range of 50 km, ideal for daily travel, it can be said that it can last a month and also incorporates a gasoline engine that allows us to travel longer.
Here we share the full interview carried out within the program 'Más de Uno de Onda Cero Vega Baja'. -> Click here
In any case, the important thing is to find out for what purpose you will need the vehicle and make the best choice. In Talleres Martínez, we can advise you to make the best decision regarding hybrid or electric vehicles.
If you want to be up to date with all the news and offers of your trusted garage, follow us on Facebook and Instagram. We are waiting for you!
Talleres Martínez, your Ford point in San Miguel de Salinas (Alicante)