Ford Pass Pro, to manage your commercial vehicle fleet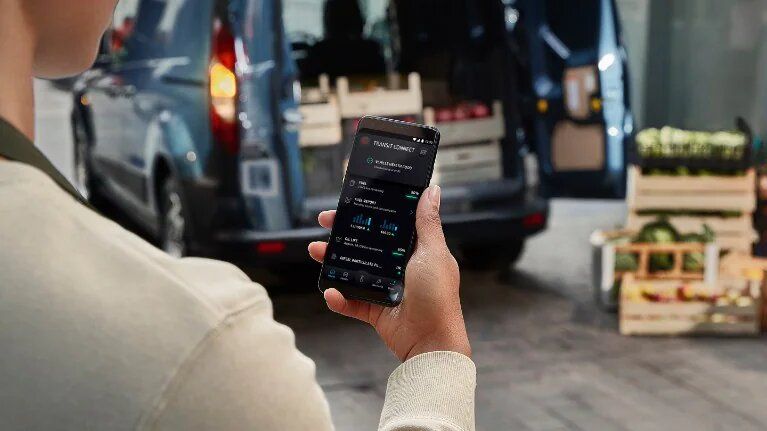 Thursday, december 30, 2021
Did you know that the FordPass Pro modem is already standard installed in commercial vehicles manufactured by Ford? That is, so you can be connected to your vehicle virtually from anywhere and at any time.
Let's say it is an evolution of the already known Ford Pass Connect as it includes a number of features that will make possible a comprehensive management of your vehicle fleet from distance.
Functionalities of Ford Pass Pro
To understand how the application works, below we will explain the different features it has.
Safety and security: It has an alert function called Securialert, which will alert us of access to the vehicle in a forced manner, knowing at all times, if there is any attempt to steal the car or van almost immediately, even if it is tried with a stolen or duplicate key.
Are you under a lot of stress at work, and you don't remember if you locked the vehicle? You can verify it with the Ford Pass Pro app while being able to lock or unlock the doors with remote access. You can even differentiate the access to the cabin and cargo area.
With this type of remote control you can also start and stop the vehicle from a distance to, for example, start it five minutes before accessing it in areas of low temperatures and in this way having it ready when we access it.
Have you parked in a city or neighborhood you don't know very well? You may not remember where you parked, and FordPass Pro has a map where you can check the current location of vehicles or the entire fleet if you have more than one.
Connectivity: From now on you have the possibility to work from the vehicle as it offers the possibility to be connected from anywhere and at any time and use the vehicle as an office since you can connect up to 10 devices to the Wifi point that offers the Ford app.
Maintenance: You can control the condition of vehicles from your app with just a couple of clicks. You will be able to know if the state of the fuel is optimal, if it is time to have it checked and in this way remember to take an appointment wit the garage in advance to avoid unwanted surprises.
Traffic situation: It also has an updated traffic situation information system so as not to be late for deliveries and to be able to choose the best route possible.
Fleet monitoring: You can monitor up to five vehicles through the app and know everything about them at any time.
What do you think of this app offered by Ford? You know that at Talleres Martínez you can stay informed of all the technological innovations that are put into practice.
Do you want to be up to date with all the news and offers from your trusted garae? Follow us on Facebook and Instagram We're waiting for you!
Talleres Martínez, your Ford point in San Miguel de Salinas (Alicante)