Can you identify liquid leaks from your vehicle?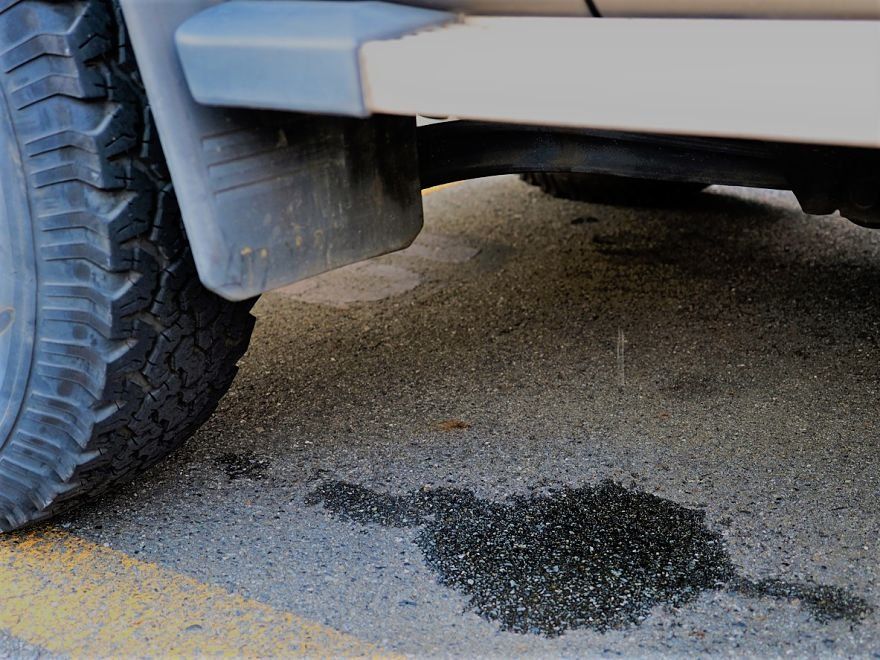 Wednesday, february 12, 2020
When we get close to our vehicle and Oh no! We see a stain of something we do not know what it is, below or in the surrounding area of it. We start to think that the bill of the garage will turn out expensive.
Here are some ways to identify what kind of fluid your car is letting go so that you don't get scared by the simple fact that the fluid is something serious, although it is always annoying.
Identify the liquid by its color
To begin with, you do not have reasons to be afraid, even though it is obvious that sighting a puddle around our vehicle is not a sign of anything good, but let's go in parts.
If that puddle is oil, it does not augur well, but let's see what kind of leakage could be depending on the color of that liquid.
If it has a black color with brown tones, it is most likely to be oil and the darker it is, the older oil engine will be and this puddle will be under it.
Normally, this type of leak comes from some gasket or engine seal, some valve or certainly the crankcase, but everything has a solution and the best thing is to bring it to a trusted garage so it can be checked. If the color of the liquid expelled by the vehicle is reddish or brown, we could be mistaken for oil, but it is actually fluid from the transmission of the car.
The longer the liquid is in our car the redder and darker it will be. In order to be able to identify it better, we can notice a strong smell that makes it unmistakable. This kind of leakage occurs in the ducts between the radiator and the cooler and we should fix it as quickly as possible.
Another tonality of red is the one from the power steering, this colour is usually more clear or transparent, but if it is old it can be brown and will probably be confused with that of the transmission that we have explained above.
In order to be able to distinguish between the two liquids, we will check where the leak occurred in the vehicle. In the case of power steering it will be at the left front. We could check the reservoir containing the power steering fluid and the hoses to see if there are leaks and check the level.
We could check the reservoir containing the power steering fluid and the cuffs to see if there are leaks and check the level.
Some leaks can be dangerous
If we check the puddle produced by the loss of liquid from our vehicle and it is yellow colored, be careful, this may be brake fluid and we should go quickly to our garae of confidence.
Above all, it is clearly the brake fluid if it is very slippery and the first thing to do is to check the tank to verify possible leaks or if there is an excess of liquid.
A liquid that comes out of the colors we have been mentioning within this article is the coolant, which is bright and can have green, orange, pink or greenish blue tints.
We can confirm this fluid by its sweet smell and mostly watery. This smell is also perceptible from the inside of vehicle after having been driving and we could notice that it heats up more than normal.
This leak might be due to something superficial, but it is convenient to take it to your garage for review because it could be due to a broken pump or leaks inside the heater.
Beware of this escape because it can complicate your life on a trip and the solution a posteriori can be worse than having taken preventive measures.
As soon as you detect a puddle in your vehicle take it to your garage for verification and no surprises.
Some liquids don't have bad consequences.
A puddle of water is the least of our problems, it is something that should also be taken as something normal and necessary because if it is clear and transparent wáter, it will be because of the use of the air conditioning of the vehicle.
It is produced by the condensation of the vaporized water and the cooling system that has been collecting the wáter and it has to expel it by means of a tube under our car.
Well, this is one of the puddles for which we do not have to go to our garage and go through the scare of knowing what is due to and how much will be the repair of it.
Since Talleres Martínez we always want to be at your side to offer you the best tips to keep your vehicle in perfect condition
Do you want to be up to date with all the news and offers of your trusted garage? Follow us on Facebook and Instagram. We're waiting for you!
Talleres Martínez, tu punto Ford en San Miguel de Salinas (Alicante)