Are you going on holiday? Tips for traveling in your vehicle with safety and more. Interview with Iván Martínez, manager of Talleres Martínez, in Onda Cero Vega Baja.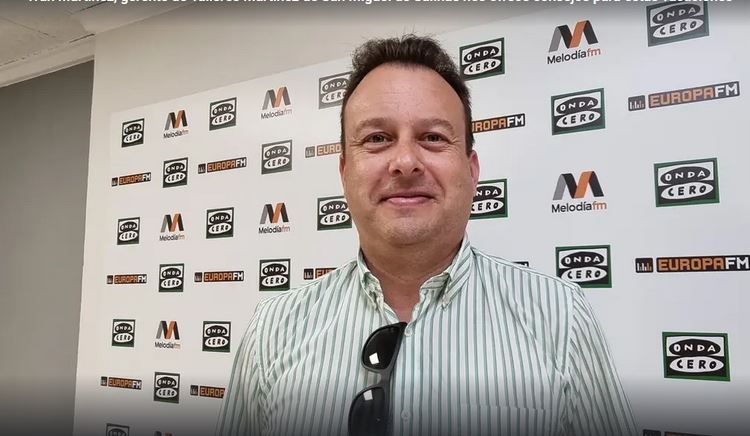 Monday, july 11, 2022
Iván Martínez, manager of Talleres Martínez in San Miguel de Salinas advises you in this interview made in Onda Cero Vega Baja the most important aspects that you must review of your vehicle before starting holidays.
Levels checking
Due to the high number of journeys expected this summer, according to the DGT almost 100 million journeys are expected, some aspects must be taken into account to get going.
Regular tune-up is essential, but you also have to be aware of a basic inspection to detect breakdowns before going on a trip.
Oil level: it is important that if a low level is detected it is because it is losing oil through some circuit and it is an element that can cause serious problems.
Coolant Level: It is important because with high temperatures the use of the cooling system becomes more critical with radiator fans and this is launched more frequently.
Brake fluid level: Another important element as it can directly affect driving safety of vehicle occupants.
Air Conditioning and Air Conditioner
Another aspect to consider in summer is that of Air conditioning, you must prove that it works properly before starting the trip and if it does not happen, make a review of it.
There is one thing to consider if the vehicle has air conditioner. It is important to always have the air conditioner at temperatures between 21 and 22 degrees and use it throughout the year.
Datum: Inside the cooling circuit where the gas is, also carries the oil that lubricates the compressor and if we leave the system off for a long time, starts in "dry" way and can cause a break in the system.
In areas like ours we use air conditioning for many months of the year, but in others periods we may stop using it for a long time. This tip is for cars with air conditioner and does not involve much consumption of it in winter as it will turn off when it reaches the indicated temperature.
Sometimes, there are areas where the temperature is very high and although we use the air conditioner you do not get an ideal temperature inside the vehicle, this can be due even to the color of the car. A dark car retains more solar radiation.
The gas charging machine for air can check the level carried and you can see if there are losses. It generates a vacuum and is left for a few minutes and if that vacuum is maintained it is in good condition. It also depends on the model to be able to detect the problem of air conditioning, sometimes it can be the fan.
Warnings from car witnesses and other elements
It seems obvious, but sometimes we ignore the warnings made by the vehicle before possible failures. It should be taken into account that the witness is illuminated and in case of a warning with a yellow or red color go immediately to the garage to perform a review.
Check the wiper blades. Due to the low use of dry areas it is very possible that they are worn and this means that in summer storms we cannot make the correct use of them.
Tires. Tire tread wear is very important, but even more the pressure on the wheels is correct to avoid any accident.
More modern vehicles with more electronics cause less consumption, improves efficiency and there is also more safety, but there are still many old vehicles that require regular maintenance.
Here we share the full interview conducted by Onda Cero Vega Baja. --> Click here
To start the summer with the best guarantees ask for appointment in the trusted garage and we will make the necessary tune-up to enjoy the trip. -> Here
If you want to be up to date with all the news and offers of your trusted garage, follow us on Facebook and Instagram. We are waiting for you!
Talleres Martínez, your Ford point in San Miguel de Salinas (Alicante)