8 Ford hybrid and electric vehicles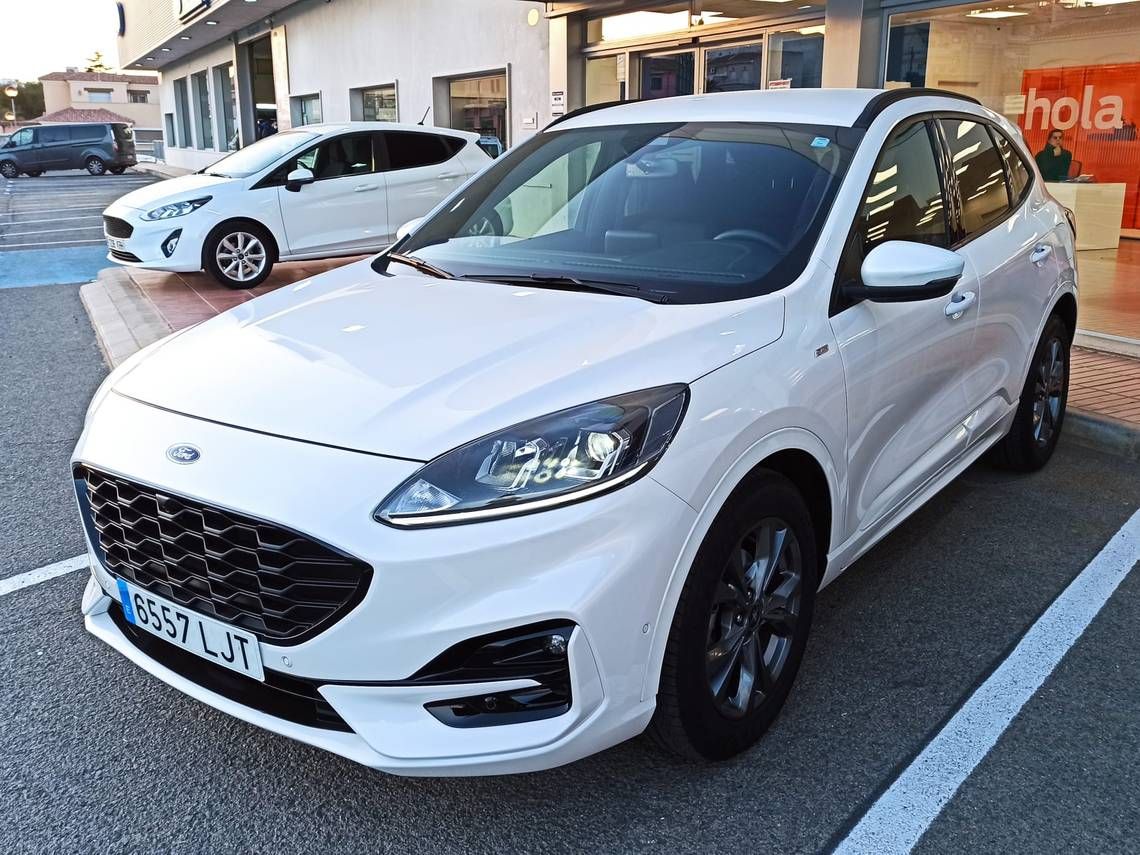 Monday, february 28, 2022
Looking for a hybrid or electric car? We present 8 vehicles that will undoubtedly cover your needs in terms of consumption and performance.
To be up-to-date
If what you need is to be one of the pioneers within the range of hybrid or electric vehicles of Ford, we present 3 models which will cover all your requirements.
1. PUMA MILD HYBRID
Ford Puma is designed to take full advantage of the evolution of our world by adapting to the 21st century. An innovative design that focuses on driver comfort with an urban off-road exterior and a hybrid heart.
Technology designed to enjoy driving with different driving modes and with the Ford co-pilot360m which adds a complete set of technologies that accompany the vehicle to manage acceleration and braking in very specific situations.
Here's a cut-priced Ford Puma → See Ford Puma
2. KUGA Plug-inHybrid
This Ford vehicle has incorporated different ECO and Zero engines so you can choose the option that best suits your driving characteristics.
Ford Kuga combines the elegant and contemporary style of the exterior with a versatile and fully adaptable interior as well as being equipped with FordPass technology. Any version offers the latest technology of Ford:
* Plug-In Hybrid
* Hybrid
* EcoBlue
* EcoBoost
Here's a cut-priced Ford Kuga → See Ford Kuga
3. Mustang Mach-e
This is the first fully electric Ford sports SUV car. Elegant, cutting-edge technology with up to 610 km of autonomy... basically, incomparable.
It offers an instant acceleration from 0 to 100 km/h in 3.7 seconds. It is not difficult to be conquered by this spectacular car. You can also benefit from the MOVES III plan which provides up to 70% discount.
You can see our test of this vehicle in this link
Hybrid or electric vehicles of known models of Ford
4. Ford Fiesta
The new Ford Fiesta comes powerfully thanks to its striking new exterior design, smart technology and range of advanced hybrid and efficient engines under the hood.
A new renovated front, with grille with bee panel design and LED headlights, give the vehicle a sporty and dynamic profile.
The extensive range of advanced options of the EcoBoost Hybrid offers a more fun driving experience, enhanced performance, along with impressive fuel savings and lower CO2 emissions.
5. Ford Ecosport
Ford EcoSport, urban and wild. Designed to conquer the city and equipped with the latest technology to enjoy the road. Get ready to try it fully equipped:
*Touch Screen 20.32 cm (8")
*Android Auto and Apple CarPlay mirroring system
*43.18 cm (17") alloy wheels
*LED Daytime Lights
*Rear Parking Sensor
*Cruising speed control
*Privacy crystals
*Ceiling Rails
EcoSport comes with a selection of three innovative and advanced motors. Firstly, there is the 1.0-liter EcoBoost gasoline engine, six-time winner of the International Engine of the Year award. Available with 125PS and 140PS options, you get all the power of a conventional 1.6-liter engine, with excellent fuel economy and low CO2 emissions.
6. Ford Focus
The Focus experience is better than ever thanks to its amazing new design packed with new connectivity tools.
With Connected Navigation and Ford Secure you will keep perfectly connected and you could access high-tech security features.
Get into an electrified world of efficiency and control with the new Automatic-PowerShift transmission of EcoBoost Hybrid, specially designed to make easier driving.
7. Ford Galaxy
The seven-seater Ford Galaxy is much more than a minivan. This luxury multifunctional vehicle (MPV) takes care of the driver and passengers alike, with comfort and top-notch space. It features ergonomic seats for extra back support, and you can even choose front seats with various contours. It also has ISOFIX accessories for child seats. If you need more space in the trunk, you can fold the rows you don't use just pushing a button.
Thanks to our state-of-the-art technology, you no longer have to choose between power or efficiency. The Galaxy is available with the latest 2.5-liter hybrid gasoline system, which offers exceptional power of 190 hp and 200 Nm of torque, in addition to greater fuel savings.
8. Ford S-MAX
Ford S-MAX is designed for exciting outdoor getaways. And as an adventure is more fun when shared, this elegant SAV (Sport Activity Vehicle) offers plenty of space for people and luggage. A five- or seven-seat configuration, up to three ISOFIX child seat points and a flexible seating system provide accommodation for all and all luggage, from suitcases to surfboards.
At Talleres Martínez, we offer you the possibility to try these and other electric or hybrid vehicles. Are you in?
Do you want to be up to date with all the news and offers of your trusted garage?
Follow us on Facebook and Instagram. We are waiting for you!
Talleres Martínez, your Ford Point at San Miguel de Salinas (Alicante)